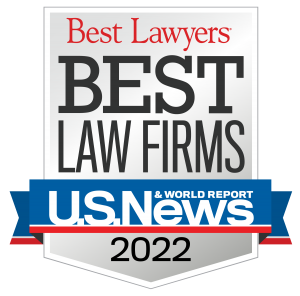 Thompson
McMullan is excited to announce our inclusion in
U.S. News and World Report's
"Best Law Firms" 2022 list, regionally ranking in the following practice areas:
Tier 1 in Administrative/Regulatory Law
Tier 1 in Business Organizations (including LLCs and Partnerships)
Tier 1 in Closely Held Companies and Family Businesses Law
Tier 1 in Commercial Litigation
The 2022 rankings incorporate over 8.2 million evaluations of more than 115,000 individual leading lawyers across 22,000+ firms. More than 2,000 firms received a national ranking this year. Of those, more than 500 firms received at least one Tier 1 national ranking; ThompsonMcMullan is honored to be included in this category. Firms included in the 2022 "Best Law Firms" list are recognized for professional excellence with persistently impressive ratings from clients and peers.
Achieving a tiered ranking, on a national and/or metropolitan scale, signals a unique combination of quality law practice and breadth of legal expertise. This recognition reflects the high level of respect a firm has earned in the same communities and the same practice areas for their abilities, professionalism, and integrity.