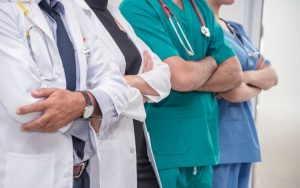 The Centers for Medicare and Medicaid Services (CMS) announced that it will add data on staff turnover rates and weekend staffing levels to its Care Compare website, giving consumers another tool when choosing a nursing home.
Medicare's nursing home rating system, Care Compare (previously called Nursing Home Compare) offers up to five-star ratings of nursing homes based on health inspections, staffing, and quality measures. Users can search for nursing homes by location and directly compare how they measure up.
Nursing homes have been plagued by chronic understaffing and high turnover rates for years, a problem the COVID-19 pandemic has undoubtedly exacerbated. A study by the journal Health Affairs found that the turnover among nursing staff was 94 percent in 2017 and 2018. Mean turnover rates were as high as 140.7 percent among registered nurses, 129.1 percent among certified nursing aides, and 114.1 percent among licensed practical nurses.
CMS announced that it would begin posting the following information for each nursing home on its website:
Staff Turnover: The percent of nursing staff and number of administrators that stopped working at the nursing home over a 12-month period.
Weekend Staffing: The level of total nurse and registered nurse staffing on weekends provided by each nursing home over a quarter.
CMS will begin adding the information to the Care Compare website in January, and it will be incorporated into the rating system in July 2022.
These statistics would be meaningful to consumers seeking quality care for a loved one. CMS has found that lower staff turnover is often correlated to higher nursing home ratings, possibly because "facilities with lower nurse turnover may have more staff that are familiar with each resident's condition and may therefore be more able to identify a resident's change in condition sooner." An established relationship between staff and resident could help staff be better able to prevent the resident from falling, getting an infection, or requiring hospitalization, all of which affect a nursing home's quality rating. The staff's familiarity with the facility's policies and procedures, as well as more steady leadership and direction, may also affect staff turnover and nursing home quality.
Weekend staffing also matters. CMS acknowledged that consumers may not realize that nursing home staffing levels can vary on weekends. CMS hopes to encourage facilities to hire more weekend staff by adding weekend staff numbers to its nursing home rating system.
To read CMS's full announcement about this new policy, click here.
The attorneys of ThompsonMcMullan's elder law practice can provide advice and counsel to those clients and families with loved ones entering a nursing home.