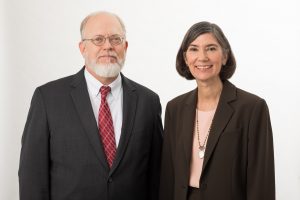 August 1, 2019
RICHMOND, VIRGINIA  (August 1, 2019) — Attorneys Michael J. Quinan and Cliona Mary Robb recently joined ThompsonMcMullan, practicing out of the Shockoe Slip location. Mr. Quinan brings years of experience in business litigation, administrative law and public utility regulation. Ms. Robb has focused her practice on Sustainable Energy and Green Development, and Energy and Telecommunications law.
"We have known Mike and Cliona for years as colleagues and friends and have always respected their legal work and their commitment to community service," said ThompsonMcMullan President and Managing Director Christopher M. Malone.  "We are gaining two great lawyers as well as a new area of expertise with the addition of a competitive and renewable energy practice."
Mr. Quinan formerly served as general counsel to the Virginia Bar Association (VBA) and as Christian and Barton's managing partner. He has served as Chair of the VBA's Law Practice Management Division, and chaired both the VBA and Virginia State Bar's (VSB) Administrative Law sections. He currently serves on the Virginia Code Commission's Administrative Law Advisory Committee. Mr. Quinan can be reached at mquinan@t-mlaw.com.
Ms. Robb was Chair of Christian and Barton's Energy and Telecommunications Practice Group and led the firm's Sustainability: Energy and Green Development group. She holds the Leadership in Energy and Environmental Design® (LEED) Accredited Professional designation. In the past, she has served as chair of the VSB Administrative Law Section, chair of the VSB Administrative Law Section National Regulatory Conference, and editor of the VSB Administrative Law Section newsletter. She served on a VSB local District Committee for investigating legal ethics complaints from 2007 to 2011. She currently serves as Vice Chair of the VBA's Law Practice Management Division and as Chair of the Solar Energy Development and Energy Storage Authority. Ms. Robb can be reached at crobb@t-mlaw.com.
# # #
For more information, please contact Cristina Sweeney at 804.698.6219 or by e-mail at csweeney@t-mlaw.com.