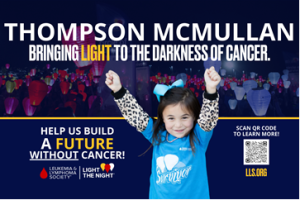 Join us in bringing light to the darkness of cancer! We are forming a fundraising team for The Leukemia & Lymphoma Society's (LLS) Light The Night. Team TM is walking this year in memory of Sheila Berry, a beloved ThompsonMcMullan employee, who lost her battle with Leukemia in 2021. In addition, we are also walking in support of a former employee, Julie Marshall, who was recently diagnosed with an aggressive form of Lymphoma. We'd be honored if you would consider joining our team and walking with us in honor of Sheila, Julie, and all those who are impacted by cancer.
Funds raised through Light The Night allow LLS to fund treatments for patients who are suffering from all forms of blood cancers. Since 2017, LLS has helped advance 85% of the blood cancer treatment options approved by the FDA.
Visit our team page and register to join using this link or make a donation and help fund cancer cures!
Event Information
Date: October 15th
Time: 5:00
Location: Innsbrook North Shore Commons Lawn (4951 Lake Brook Drive, Glen Allen, VA 23060)